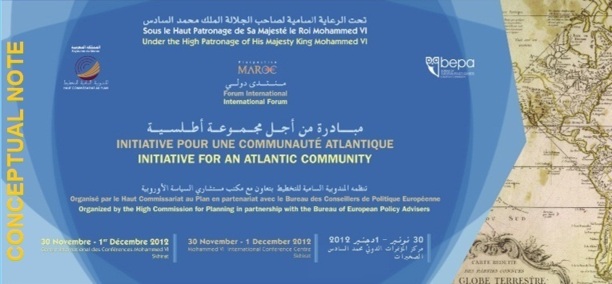 The
INITIATIVE FOR AN ATLANTIC COMMUNITY
builds on the First Skhirat Conference organised by the "Haut Commissariat au Plan" of Morocco in May 2009, and also on the Conference on the Atlantic Geopolitical Space held in Brussels in July 2011 by the Bureau of European Policy Advisers (BEPA) and the DG Research of the European Commission. The Scientific Committee of this project decided, during a meeting in Rabat on the 6th of July 2012, to organise a Second Skhirat Conference, on
November 30 - December 1, 2012
, in order to develop such an initiative.
The INITIATIVE FOR AN ATLANTIC COMMUNITY
seeks to contribute to a feeling of belonging to a community among the many different peoples connected to the Atlantic Ocean. By creating this sense of community, the peoples living in the Atlantic area are expected to be more able to fulfil their ambitions through cooperation, and to respond more effectively to the many challenges facing this zone.
The
INITIATIVE FOR AN ATLANTIC COMMUNITY
will be inclusive and will emphasise values such as freedom, social cohesion, human dignity as well as sustainable economic and ecological development, and a decent life for all. It will also value and appreciate the diversity among its peoples who will work together through constructive cooperation.
The
INITIATIVE FOR AN ATLANTIC COMMUNITY
will focus particularly on several domains: the economy (including trade, investment, energy, natural resources and building a rules-based system), human development, science and technology (using the knowledge available), food security , and naturally the element connecting the various nations and peoples of this area: the Atlantic Ocean (preserving the ecological systems of the region). Obviously, collaboration with any other initiatives that share the same objectives will be strongly welcomed.
The
INITIATIVE FOR AN ATLANTIC COMMUNITY
takes the responsibility to engage state and non-state actors in order to move their own Atlantic area in a legitimate order and good shape. It will explore new dynamic ways of governance, capable of sustaining development in a century of thorough globalisation, with its many opportunities and challenges. The new ways of Atlantic governance might contribute to the renewal and improvement of global governance. The activities of this initiative will be concentrated on issues that directly concern the Atlantic peoples. But it intends, through its innovative governance and its management of the Atlantic common elements, to have also a positive influence on the world at large.
The focal-point of the
INITIATIVE FOR AN ATLANTIC COMMUNITY
is based in Rabat, at the "Haut Commissariat au Plan" (
hcpcabinet@gmail.com
; tel. 212 537576904).
Download

Conceptual note
(64.5 KB)