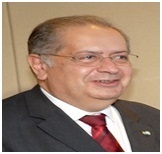 Jaime Gama:former Speaker of the portuguese Parliament(2005-2011) and twice Foreign Affairs Minister(1983-1985 and 1995-2002),was also Internal Administration Minister in 1978 and Defence Minister in 1999.Member of Parliament from 1975 to 2011.Born in the Azores islands(1947),lives in Lisbon since 1965.Philosophy degree at Lisbon University.

This name uses Portuguese naming customs. The first or maternal family name is Matos and the second or paternal family name is Gama.

He graduated as a Licentiate in Philosophy from the Faculty of Letters of the University of Lisbon. He was involved in the opposition to the fascist Estado Novo (New State) regime, since his youth, and was first arrested, aged only 18, due to an article published in the local press. He was a member of the socialist CEUD in the campaign for the 1969 legislative elections, won by the National Union (the regime party), due to massive fraud. He was a journalist of the opposition newspaper República, in the last years of the fascist regime.

He was a founder of the Socialist Party, in the German exile of Bad-Munstereifel. He was elected for his Party as a Deputy to theAssembly of the Republic for the Azores from 1975 and for Lisbon from 1983. In the 1st Constitutional Government, he was Minister of Internal Affairs (1976–1978), and Minister of Foreign Affairs in the 9th Constitutional Government, from 1983 to 1985. He returned to the same ministry, in António Guterres' governments, from 1995 to 2002, and was also Minister of State and Minister of National Defence, in 1999, and Minister of State from 1999 to 2002. He was President of the United Nations Security Council during June 1998. He was the chairman of the Presidency of the Council of Europe from 1 January 2002, until 6 April 2002, when he lost his post as Foreign Minister when the new government of José Manuel Durão Barroso took office in Portugal.
In 2005, he became the new and 12th President of the Assembly of the Republic (Assembleia da República), the Portugueseparliament. He is also a Member of the Portuguese Council of State as the President of the Assembly of the Republic.

jusqu'en juin 2011. He currently lives in Lisbon with his wife and son.