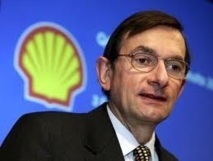 JEROEN VAN DER VEER is ex CEO of ROYAL DUTCH SHELL and now a Non-Executive Director of Shell.
In 2009-2010 Jeroen was Vice-Chairman of a group of experts who advised for a new Strategic Concept for NATO. He has been a Non Executive Director (Vice-Chairman) of Unilever (which includes Unilever N.V., Unilever plc and United Holdings Ltd.). He was World President of the Society of Chemical Industry from 2002 to 2004.

Presently he is Chairman of the Supervisory Board of ING, and Chairman of the Supervisory Board of Royal Philips Electronics. He is still connected to Shell through his Non-Executive Directorship of Royal Dutch Shell plc. He chairs 'Platform Beta Techniek', a governmental institute promoting education in science and technology. He is active in the cultural sector as a Supervisory Board member of 'Het Concertgebouw', Committee Member of 'Het Nationale Toneel' and Chairman of the Supervisory Council of 'Het Nederlands Openluchtmuseum'.

Jeroen was born in Utrecht in the Netherlands in 1947. He has two degrees, one in mechanical engineering from Delft University and another in economics from Rotterdam University. In 2005 he was awarded an honorary doctorate from the University of Port Harcourt in Nigeria.

He was appointed by Queen Beatrix of the Netherlands as a Commander in the Order of Orange-Nassau in June 2009. Also in 2009 he became an honorary Citizen of Singapore.